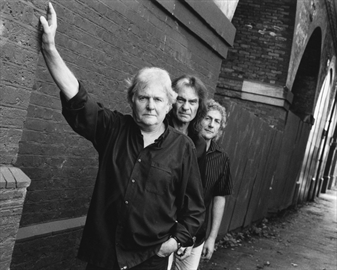 Coming to town
Joelle
Acoustic Stawbs band members Chas Cronk, David Cousins and Dave Lambert.
Guelph Mercury
"Canada, oh Canada, the journeys are endless but not too far. Canada, oh Canada, toujours j'ai trouve la force dans les bras. I have found strength in your arms. — "Canada" from "Secret Paths," David Cousins, Strawbs.
Strawbs love Canada.
"Curiously, it started in Montreal and Quebec because prog rock was very popular at the time," says venerable lead singer/guitarist David Cousins, oft dubbed the "heart and soul of Strawbs. "We got listed alongside Genesis and Van Der Graaf Generator and we never looked back from there. That interest spread throughout the whole country, and we've had this love affair with Canada ever since."
Cousins, is chatting from Hugh's Room, Toronto, a second home where he has played many times over the years. The band also recorded 2004 DVD "Acoustic Strawbs Live In Toronto at Hugh's Room" with the "fabulous" launch show featuring "The Willoughby Line-up" of Cousins, Dave Lambert, on guitar and vocals and Brian Willoughby on guitar and Ebow.
In Strawbs history, band line-ups are significant for this now five-decade-old English band who have legendary musical incarnations. It began in the early '60s when Lonnie Donegan's '50s skiffle was all the rage and school mates Cousins and guitarist Tony Hooper began as bluegrass jug band The Gin Bottle Four which phased through the blues and switched to folk in The Strawberry Hill Boys, soon shortened to "Strawbs." After more member changes, which included the addition of keyboard player Rick Wakeman, the band's sound flourished from folk to progressive rock, and the rest is now vintage rock and roll history.