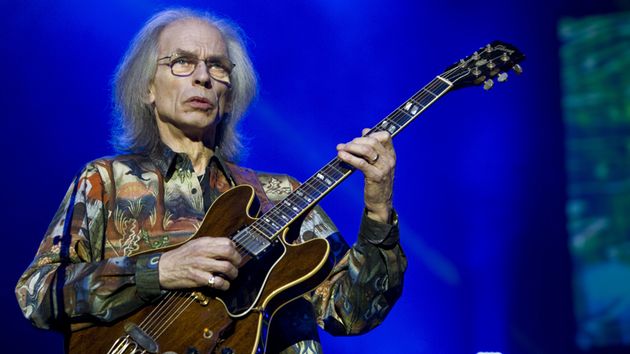 The predominant six-string wizard behind Yes and Asia, Steve Howe is as unique and animated a character as his all-embracing, inimitable guitar style would suggest.
Ahead of next year's UK and Europe tour (which will see Yes play 1971's The Yes Album, 1972's Close To The Edge and 1977's Going For The One in full), MusicRadar sat down with Howe to discuss his gear, his uncompromising approach to live shows and his enduring love for the instrument that made his name.

On the forthcoming tour, you'll be playing The Yes Album, Close To The Edge and Going For The One in full. Why those albums?
"I've said to the guys for a long time, 'Why not do albums as opposed to just songs?' Then it was, 'Well, which albums?' The Yes Album has always been part of our general setlist, but we've never done A Venture, so there was one little magic piece in there that was always ignored.
"Then Close To The Edge was on and off the setlist, but rarely all three pieces, and Going For The One had been played much less. So we had a balance of familiar and not so familiar. The other goal was to not play the albums live like we always did, but to play them more like the records. To bring something closer to the record is crucial to this show, but we've still got breaks to improvise, because I do need that."

Have the techniques you learned since recording these albums allowed you to approach the old material differently?
"One of the initial limitations was tone. I'd have a pedalboard with 21 switches operating racks and boxes and I thought I was always going to stick with it. Then in 2006, when Asia reformed, I said, 'Let's play the first album exactly' - like Yes are doing now. I got in touch with
Line 6
and I got a Vetter II amp and I sat down with a brilliant guy I know called Steve Bernette [to program the tones].
"Now I've got all of the programs for the HD500 pedalboard and once Yes got back together, I thought, 'I can't go back to the old box-stomping lark.' So now I don't have any racks: I've got a Bogner amp and a pedalboard and that's all my equipment."
Presumably, that takes some of the stress out of the live performance?
"Exactly. I'm not asking myself which box to press - I did all of that at home. That's a big belief of mine: 'Why worry when you go onstage?' If you're worrying then, well, it's fucking too late! When I worry is when I'm at home trying to get it to work. When I got it to work, I ceased worrying and now I'm a free musician."
CURRENTLY AVAILABLE FROM GONZO