Rob Ayling, yer Gonzo Grande Fromage, writes:
"Thom the World poet is an old mate of mine from way back in my history. Even pre-dating Voiceprint, when I was running "Otter Songs" and Tom'
s poetry tapes and guest appearances with Daevid Allen, Gilli Smyth and
Mother Gong
are well known and highly regarded.
It just felt right to include a daily poem from Thom on our Gonzo blog and when I approached him to do so, he replied within seconds!!! Thom is a great talent and just wants to spread poetry, light and positive energy across the globe.
If we at Gonzo can help him do that - why not?"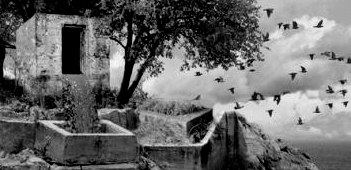 Something about green harmonies
attract living songs and poems.
Art is a flower without words -
So we supplied sufficient to
the blue evening sky, beneath
a canopy of leaves which themselves
were nests for conferences of birds,
whose evening nocturnes became
bells that tolled, and resonated with
We all remarked how well the birds
sang. . . but we were in their habitat,
and the answering skies were score-sheets
for their symphonies.
Night distilled sweetness,
as chant and response
echoed green to blue. . .
purple to black. And as
stars twinkled in merriment,
we slipped dreams
into trees,
hopeful of return
another time, to this Eden.
🌿
_________________________________________
written after a performance in the magic garden of Renee Studebaker
near Austin's Hyde Park in springtime, 2015.
coming soon, on April 30 at 7:30 p.m. a celebration of nature and
gardening
at YardFarm
(7204 Shelton Rd, Austin, TX 78725)
_________________________________________