Jefferson Airplane pretty much
was
the
San Francisco
sound as far as most people were concerned. Even your parents knew who they were, because one of their songs was playing about every 8 minutes on FM radio in
1967
, so they were big successful rock stars. But they stayed close to their political roots (
Got a Revolution?
) and managed to play free concerts whenever possible. In fact, I think I saw them in concert at least half a dozen times but never paid to see them once!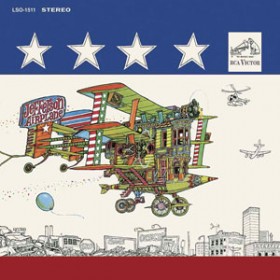 Weedists will appreciate Jefferson Airplane's work especially because many of their songs referred unashamedly to drug use. They were one of the first bands to thumb their noses (mostly) at their record company's pleas to take out "drug lyrics", and this in a time when most of the country was still pretty conservative and records would be banned from the radio for little or no reason whatsoever.
One of their biggest hits, "
White Rabbit
", talked plainly about pills, acid trips, and ended with "Feed your head". And to top it off, as a new pot smoker, you'd learn how to hold a joint by folding a paper match around it so you wouldn't burn your fingers when it got smaller, and then you found that doing that was called a "Jefferson Airplane", so it all seemed to make sense.
But if you want to hear some of their best psychedelic work, and not just their pop hits, you have to go to their third album,
"After Bathing At Baxter's"
. This particular monumental instrumental could only have been produced by the kind of musicians that knew each other really well, with the kind of (possibly drug-propelled) telepathy that you can get sometimes. I recommend headphones and being at least at a [5] for this: