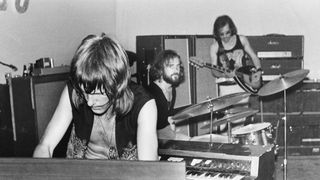 (Image credit: K & K Ulf Kruger OHG \/ Getty Images)
A triple-disc set to celebrate the 50th anniversary of the legendary Bath Festival of Blues and Progressive Music from 1968 and 1970 is to be released in conjunction between the estate of original promoter Freddy Bannister and Gonzo MultiMedia on November 27.
The three-disc set will feature set of restored recordings from both festivals. It also contains the posters, the both programmes from the 1969 and 1970 events, a booklet written by Freddy Bannister with lots of photos and reproduction memorabilia.
The Bath Festival of Blues and Progressive Music was a counterculture era music festival which ran for two years. Initially as the Bath Festival Of Blues in 1969 at the Bath Pavillion Recreation Ground and a year later at the Royal Bath and West Showground in Shepton Mallet, Somerset.
NOTICE
The eagle-eyed amongst you will have also noticed that the Gonzo Multimedia websites have changed and are in a process of flux, so there are no individual sales links at the moment. But check out www.gonzomultimedia.co.uk
for a thing of wonder.
There is a hunky-dory, all singing, all dancing, Gonzo Publications website
is now pretty well done, although there arve still nine authors who need personal pages. You can find it at www.gonzopublishers.com and then tell me what a clever fellow I am. It even has a haiku to explain why some links are not finished:
"These links do not work, now but they will do so soon, we apologise"