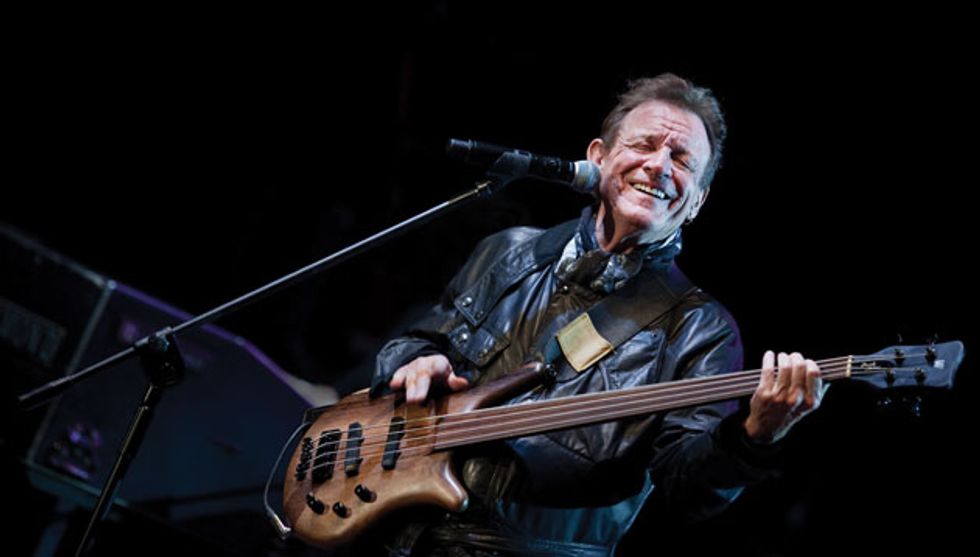 Jack Bruce plays piano as well as bass, but he calls himself a "natural bass player." He's played many models, including Gibsons, but these days he plays his signature Warwick fretless thumb bass.
Legendary bass player Jack Bruce has accomplished enough musical feats to last several lifetimes. Known as one of the most influential and iconic rock bassists of all time, Bruce first stepped into the spotlight with his band Cream, where his powerful vocals and innovative playing—accompanied by budding guitarist Eric Clapton—helped sell more than 35 million albums in just over two years.
After stints with other rock luminaries such as John Mayall, Ringo Starr, and Frank Zappa, Bruce found his own voice as a solo artist, writing 13 albums from the span of 1969 to 2003 that gained high acclaim for his vocal prowess, groundbreaking bass work, and progressive songwriting. His rhythmically challenging and melodic style of playing electric fretless and upright basses have inspired multiple generations of bass players, including the likes of Sting and Jaco Pastorius.
CURRENTLY AVAILABLE FROM GONZO