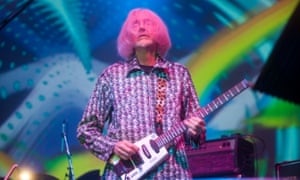 Daevid Allen, the leader of the legendary prog-jazz eccentrics Gong, has died aged 77. The news was confirmed on the Facebook page of Allen's son, Orlando Monday Allen.
Last month,
Allen announced he had been given six months to live
, after cancer for which he had previously been treated had spread to his lung. "I am not interested in endless surgical operations and in fact it has come as a relief to know that the end is in sight," he said. "I am a great believer in 'The Will of the Way Things Are' and I also believe that the time has come to stop resisting and denying and to surrender to the way it is.
Read on...