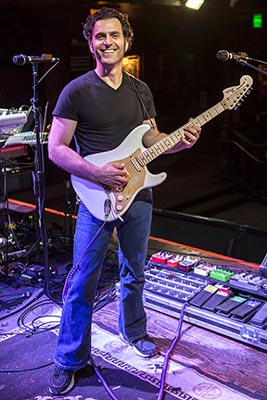 (Newton, NJ) -- Dweezil Zappa's band Zappa Plays Zappa will perform the music of Frank Zappa at the Newton Theatre on Thursday, July 10th at 8:00 pm. Dweezil has been bringing his father's musical legacy to the stage for the better part of a decade with Zappa Plays Zappa. Playing a long, ambitious set of Frank Zappa favorites and obscure gems brings back the fervor, uniqueness and musical genius of the original Zappa.
While on tour Dweezil will preview some of the guitar concepts he teaches at his music camp, Dweezilla, in a special event prior to each concert. The afternoon of the show, Dweezil Zappa will instruct a Guitar Masterclass for a separate fee of $75. "I transformed my guitar technique before starting Zappa Plays Zappa out of necessity to play my dad's most sophisticated and challenging melodies. I've found a lot of exciting new approaches to the guitar," Zappa says, "I'm excited to present an opportunity to share thoughts on my approach to guitar with students of all levels before each show on tour."
Dweezil Zappa was born in 1969 in Los Angeles. It was inevitable that from the moment of his birth his life would be filled wall-to-wall with music (his father having listed his religion as "musician" on Dweezil's birth certificate). Having watched his father perform concerts from the side of the stage since he was in diapers it was no surprise that he began to show an interest in music early on. At 6 years old he received his first guitar from his dad and at 12 he began to show a serious interest in manipulating the instrument to make music.
With influences like Eddie Van Halen, Randy Rhoads, Steve Vai and his famous father, Dweezil made his first onstage appearance at the age of 12 with his father's band at the Hammersmith Odeon in London. Later that year he recorded his first single, My Mother Is A Space Cadet, released on Frank Zappa's Barking Pumpkin label and produced by Edward Van Halen. "There are no words to describe how inspirational it was for me to be able to work with Edward on that recording. I was 12, a novice player and in complete awe of his super human accomplishments."
Read on...
CURRENTLY AVAILABLE FROM HIS DAD AT GONZO