http://www.betreutesproggen.de/2015/06/mick-abrahams-revived/
Mick Abrahams – Revived
0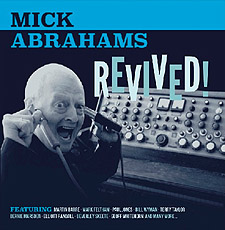 (62:09, CD+DVD,
Gonzo Multimedia
, 2015)
Für stutzende Prog-only-Jünger:
Mick Abrahams
war u.a. der "Original"-Gitarrist von Jethro Tull (aber auch Platten von seiner Formation Blodwyn Pig dürften viele im Schrank stehen haben). Nach den Aufnahmen zu "This Was" wurde er zunächst durch
Tony Iommi
(!) und dann durch
Martin Barre
ersetzt, der bekanntlich bis 2011 bleiben durfte. Besagter
Martin Lancelot Barre
ist auch einer der zahlreichen illustren Freunde und Gäste, die bei
Mick
s hörenswertem, sympathischen aktuellen Album mitgewirkt haben, dem man in unserem Kontext einzig die überschaubar bleibenden Prog-Anteile ankreiden könnte (deren Existenz ja aber auch nie jemand behauptet hat).
It would certainly be a shame, this pearl handmade (blues) with a lot of soul to go rock music because of pigeonholing. The complete guestlist is Awe-inspiring and reads itself so:
Singing

Paul Jones (+ Bluesharp; u.a. Alexis Korner, Manfred Mann, The Blues Band)
Mark Feltham (+ Bluesharp; u.a. Rory Gallagher, Nine Below Zero)
Beverley Skeete (u.a. Sting, The Rhythm Kings, Jamiroquai, Squeeze, Tina Turner, Chaka Khan)
Don Andrews
Patrick Walshe
Peter Eldridge

Guitar

Martin Barre (s.o.)
Bernie Marsden (u.a. Whitesnake
Elliott Randall (u.a. Steely Dan)
Geoff Whitehorn (u.a. Procol Harum, If, Crawler)
Emily Gardner
Terry Taylor (u.a. The Rhythm Kings)
Alex Abrahams

Bass

Bill Wyman (Rolling Stones, The Rhythm Kings)
Jim Rodford (Argent, The Kinks)
John "Guiness" Gordon

Keyboards

George Murayni
Josh Phillips (u.a. The Crazy World Of Arthur Brown, Procol Harum)

Drums

Graham Walker (u.a. Gary Moore)

Saxophone

Frank Mead (+ Squeezebox; u.a. Procol Harum)
Nick Payn (+ Gesang; u.a. The Rhythm Kings
Although he claimed, inter alia, a heart attack has health problems and no longer kannn are long - musical shows the 71-year-old on his 15th solo album in brilliant form and how after a vitalisation (!). Among the numerous height points counts the Leiber / Stoller -number, What About Us', the completely relaxed according friends sounds here on a porch - or in a Barbershop. Or the delightfully as meaning rolling and provided with deep-tone horn sections, Elz. / Abys Jam '. But still a little Prog-flair finds himself at, On The Road Again '(and on, Boney Moronie' plays a Freshwater Figgins even Mellotron!), during Jimmy Reed s, Bright Lights, Big City 'already because of the cooperation Marsden, Jones , Abrahams thrilled.
The Bonus-DVD provides additionally on a tripartite "Behind The Scenes", which one can consume in a fun-filled good half hour. Apropos Bonus - a weighty purchase argument is also that 50 percent all management bonuses about This Release to the charity
Kids, n 'Cancer
go. All-round So a good thing!
Rating: 11/15 points
CURRENTLY AVAILABLE AT GONZO: