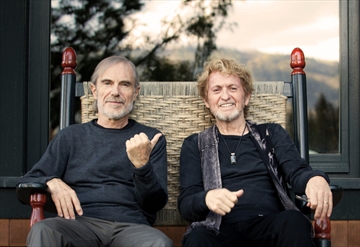 Over the course of his long recording and touring life with the progressive-rock band Yes, singer Jon Anderson saw firsthand the delicacy of band dynamics. For the 17 studio albums he recorded with Yes, the endless tours that followed, Yes saw more turnover than a telemarketing firm.
A staple of classic-rock radio, occasional hit makers, and having sold out venues all around the world, Yes has long epitomized a band that soldiered on despite, er, "Fragile" relations. So you can bet that when Anderson formed his first post-Yes band last year, the Anderson Ponty Band, with violin marvel Jean Luc Ponty, he knew what he was getting into.
"I thought it was the best time in my life to get together with a group and sing with a band and get that feeling again," says Anderson, 71. "It's been 10 years since I was with Yes, and I've been doing all my solo work and things, but I just had this feeling: One time, come on, let's do it. As I said to Jean Luc, 'Better late than never,' because we kept saying we were going to work together."
"Better Late Than Never," in fact, is the name of the band's debut recording, released earlier this fall.
In some ways, the collaboration was decades in the making. Yes played some shows with John McLaughlin's Mahavishnu Orchestra in the 1970s, and that particular incarnation of the fiery jazz-fusion band featured Ponty on violin. "I remember when I first met Jean Luc playing with Mahavishnu - I wanted to sing with Mahavishnu. That was my dream at that moment. So here I am playing with a band that can do Mahavishnu. It's amazing."
Last year, working with musician Michael Lewis, who had gotten Ponty to play on one of his tracks, Anderson was reawakened to the power of Ponty's soaring violin. Inspired, he decided to go back to some of Ponty's work from the 1970s and added vocals, with new lyrics, to the instrumental music and then sent those along.
Ponty, who played with Frank Zappa's Mothers of Invention in the early 1970s, has been recording and touring with his own band for 40 years, establishing himself as one of the most eminent and influential figures in the jazz-rock scene. The 73-year-old violinist has long admired Yes, and he was struck by what he heard in Anderson's additions to his music.
CURRENTLY AVAILABLE AT GONZO: