Second show at the Academy 1 doesn't go ahead either, with fans let in instead for encores of the first gig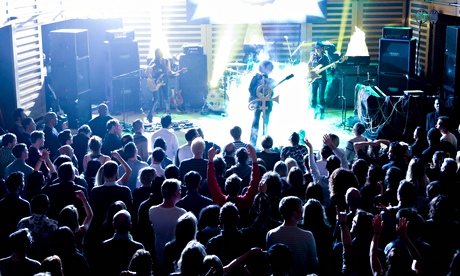 Bringing the funk … Prince and his band 3rdEyeGirl at Kings Place in London last week.
Has Princemania started to wane? Friday night's show at the 2,600-capacity Manchester Academy 1 had not sold out by the time the gig began, and a second performance in the same venue that same night – announced by Prince's manager via Twitter – did not take place.
All but 400 tickets for the gig were sold online in advance – and sold out almost immediately – with the remainder being held back for sale on the night. Again the price was £70 rather than the £10 of his first couple of shows in London. But Princevault.com reports that only around 250-300 of the one-the-night tickets were sold, with everyone who queued getting in.
As the show began, Prince's manager Kiran Sharma tweeted: "HELLO Manchester!!! Guess what...??? You can now start a quue for the SECOND SHOW 2NITE!!! :)" That generated a new queue – but one that only reached 100 or so people. Instead of being treated to a second show, the second wave of queuers were allowed in to see Prince and 3RDEYEGIRL's encore, for a reduced admission price of £35.