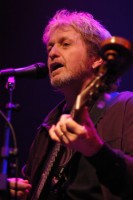 Last year, Jon Anderson and Jean Luc Ponty put up a Kickstarter campaign to help them finance their first album as the AndersonPonty Band.

The two legends took up residence at the Wheeler Opera House in Aspen, CO last September to perfect their new music and performed their debut concert on September 20, 2014. That concert is the basis for their first album, Better Late Than Never.
The AndersonPonty Band has created some breathtaking new musical compositions. Better Late Than Never also showcases rearrangements of classic Yes hits like Owner Of A Lonely Heart, Roundabout and Wonderous Stories, as well as some of Jean Luc Ponty's beloved compositions, with Jon's lyrical vocals and melodies enhancing the music and creating a very special and unique sound such as Infinite Mirage, a new song incorporating Jean Luc's classic tune Mirage.