Rob Ayling, yer Gonzo Grande Fromage, writes:
"Thom the World poet is an old mate of mine from way back in my history. Even pre-dating Voiceprint, when I was running "Otter Songs" and Thom's poetry tapes and guest appearances with Daevid Allen, Gilli Smyth and Mother Gong are well known and highly regarded. It just felt right to include a daily poem from Thom on our Gonzo blog and when I approached him to do so, he replied within seconds!!! Thom is a great talent and just wants to spread poetry, light and positive energy across the globe. If we at Gonzo can help him do that - why not?
"WE ARE ALL FUTURISTS NOW"
Awakening to Alexa's alarm.Soothing SIRI.
GPS and robo-calls.Self-Driving TESLA.
We are already embedded in THE MATRIX.
To go off-line /off the grid harder than hackers.
My friends leave FAKEBOOK,then return.
They lose money on BITCOIN.All science fiction is true.
Terminator drones bomb Afghanistan,Syria.
TESLA sacks nine percent of its workforce.
Stock Market run by algorithms.Same with oil prices.
The "Human Stain"is fast disappearing/like old jobs
Retrain.Reboot.Sell retro-engineering opportunities.
To survive in a plastic sea,be plastic!
Homeless in every city.Refugees/Dispossessed compounding
The answer is not in a program.It calls for us to be fully human..
To care for each other -the wounded,the lost-without regard to cost
Free public transport.Tiny homes for homeless.Instead of walls and wars
Open arms.Open hearts.Un-programmed minds.START!(your Art!
Silicon Valley's elite are hatching plans to escape disaster – and when it comes, they'll leave the rest of us behind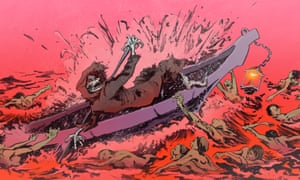 Last year, I got invited to a super-deluxe private resort to deliver a keynote speech to what I assumed would be a hundred or so investment bankers. It was by far the largest fee I had ever been offered for a talk – about half my annual professor's salary – all to deliver some insight on the subject of "the future of technology".
I've never liked talking about the future. The Q&A sessions always end up more like parlor games, where I'm asked to opine on the latest technology buzzwords as if they were ticker symbols for potential investments: blockchain, 3D printing, Crispr. The audiences are rarely interested in learning about these technologies or their potential impacts beyond the binary choice of whether or not to invest in them. But money talks, so I took the gig.
After I arrived, I was ushered into what I thought was the green room. But instead of being wired with a microphone or taken to a stage, I just sat there at a plain round table as my audience was brought to me: five super-wealthy guys – yes, all men – from the upper echelon of the hedge fund world. After a bit of small talk, I realized they had no interest in the information I had prepared about the future of technology. They had come with questions of their own.