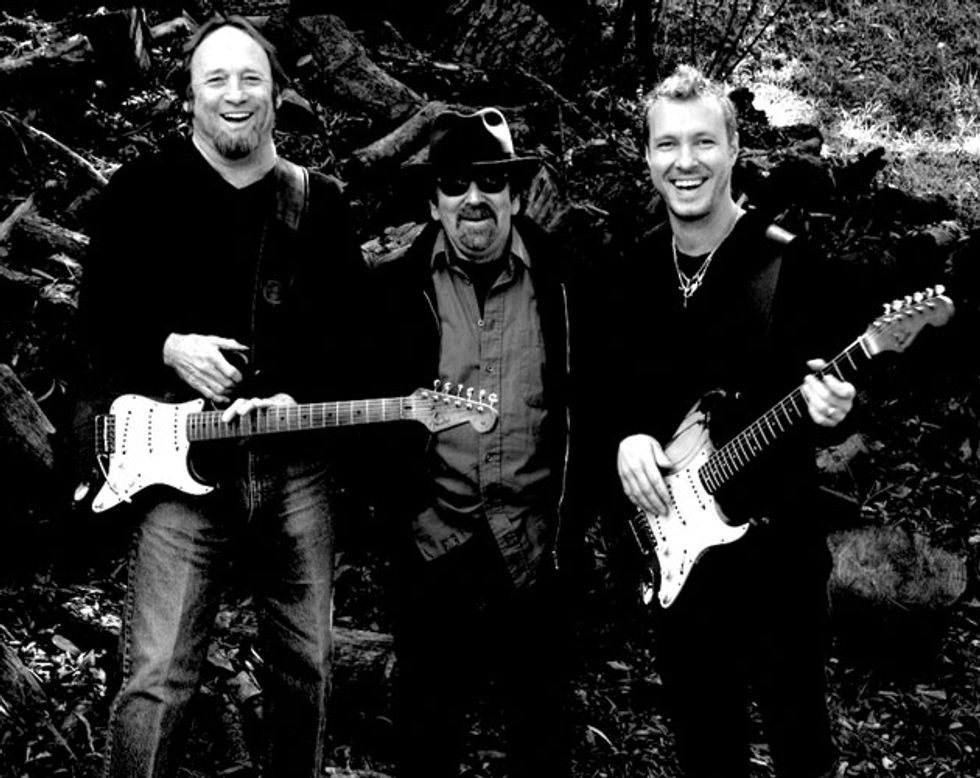 Supergroup the Rides is a trio comprised of Stephen Stills, Barry Goldberg, and Kenny Wayne Shepherd.
Can't Get Enough is the debut album by the Rides, a new band fronted by guitarists Stephen Stills and Kenny Wayne Shepherd. But in a sense, the project originated in 1968, nearly a decade before Shepherd was born.
The spring of that year, Stills found himself at a career crossroads. Buffalo Springfield, the band he co-fronted with Neil Young, was on the verge of breaking up, and he had yet to connect with former Hollies member Graham Nash and ex-Byrd David Crosby to form Crosby, Stills & Nash. He received a phone call from producer Al Kooper, inviting him to contribute to what would became the Super Session album. Kooper had commenced the record with Chicago blues guitar phenom Mike Bloomfield, but Bloomfield jumped ship.
"So Al called me up," remembers Stills. "I asked him, 'How far down the list of guitar players am I?' He goes, 'You're right up there at the top!' And I go, 'Yeah, right. Nobody knows I'm a lead player—everyone thinks that I'm just a folk singer." But Stills agreed to replace Bloomfield for the album's second side. Super Session was a hit, with critics lauding both Bloomfield's blues stylings and Stills' West Coast sound.
"I started out on guitar playing to Jimmy Reed records. Not Joan Baez, not Pete Seeger—Jimmy Reed, Little Walter, and Robert Johnson." —Stephen Stills
Fast-forward 40-some years, when Stills' manager, Elliot Roberts, and record exec Bill Bentley hatched the idea of revisiting the Super Session concept using Stills, plus another guitarist to take the role of Bloomfield, who died of a drug overdose in 1981.
Stills says he was thrilled when Roberts floated the idea, because he'd been looking for a vehicle to play blues, his first musical love. "I started out on guitar playing to Jimmy Reed records. Not Joan Baez, not Pete Seeger—Jimmy Reed, Little Walter, and Robert Johnson. It's a part of my soul. It's in my DNA."
CURRENTLY AVAILABLE AT GONZO