My brother-in-law Antony sent me a brief message on Facebook. He basically agreed with
what I wrote yesterday
about The Beach Boys on Later with Jools Holland, and sent me the following link. The story of how this band is unravelling before our eyes continues, and I make no apologies for featuring it heavily here on the Gonzo Daily. This is rock and roll history in action...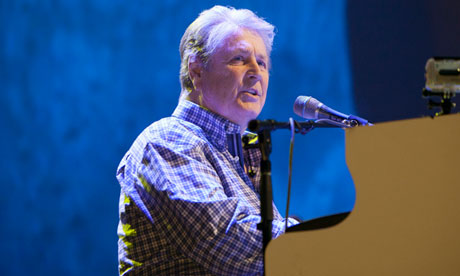 It's hard not to spend the last night of the Beach Boys' 50th anniversary tour trying to read the runes of the relationship between Mike Love and Brian Wilson. The former, the owner of the Beach Boys name, has told the latter – his cousin and the genius emeritus of American pop – that as of the end of this show,
the Beach Boys reverts to being Mike Love plus hired hands
, with no room for Wilson, Al Jardine and David Marks.
During
Add Some Music to Your Day
, when Wilson sings "You can feel it touching your heart," he looks over his right shoulder, directly at Love, who glances back with all the sentiment of a workhouse beadle who has been asked for more food. And come the end of the show, it is Wilson who seizes Love's hand for the group bow.
Read on...