I'm not the only person to have interviewed Annie Haslam recently...
Mike Ragogna:
Annie, you're one of my hero-esses!
Annie Haslam: Oh gosh, not a hero-ess!
MR: (laughs) During an interview the other day, I joked with a couple, "You are the Mayor and Mayor-ess of town," and I thought I'd try that bad joke on another hapless victim.
AH: Is that what you call a female mayor?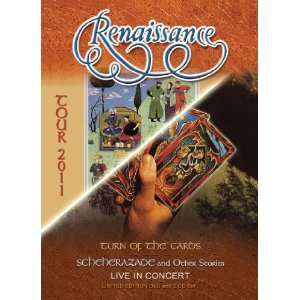 MR
: Nah, a female mayor is a mayor, and a female hero is a heroine.
AH: Heroine, oh God!
MR: Was just trying on "hero-ess."
AH: I'm going to copyright the word "hero-ess." I'll say it's my design. (laughs) You said that you were solar-powered, and I think that's incredible. I love that.
MR: Thank you, very much. We're the only solar-powered station in the Midwest of the United States and that's very strange to me.
AH: Yeah. It's not right, really, is it. We should all be solar-powered.
MR
: Again, thank you for the kind words, Annie, very nice. Okay, let's dive into your new project. Can you go into what the motivation was to cover your two albums, Turn Of The Cards and
Scheherazade And Other Stories
?
Read on...
renaissancetouring.com/
2012-2013 Tour Announcement · New Renaissance Studio Album · Grandine il Vento. Join Renaissance Updates mailing list ...
www.anniehaslam.com/
Annie Haslam, born in Bolton, Lancashire, breast cancer survivor, became lead vocalist for Renaissance has now turned her music into 'dream expressionism' ...